JOIN FOODBANK HUNGER FIGHTERS
Bridge to Brisbane is back! Join the amazing team of people running for Foodbank Queensland to help fight hunger across the state!
Every one dollar you raise will provide two meals to a Queenslander going hungry. Help us reach our goal to provide 100,000 meals to Queenslanders!!
Become a hunger fighter and sign up today. Together, we can make sure no Queenslander goes hungry.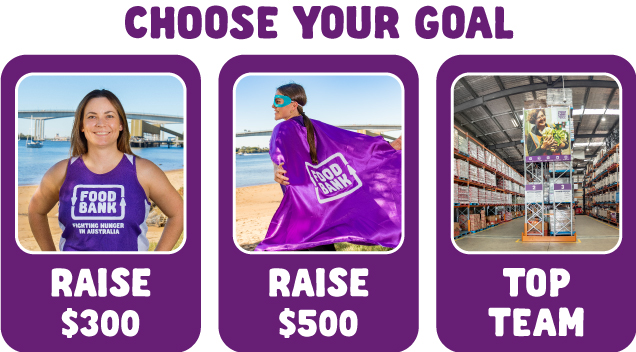 WHY FOODBANK QUEENSLAND

Foodbank Queensland is Queensland's largest hunger relief charity, supporting over 200,000 Queenslanders and 29,000 school aged children experiencing a hunger crisis every month. Foodbank Queensland are currently working closely with over 250 member charities and 300 state schools to ensure that hungry Queenslander's continue to have access to essential food and groceries. Your donations will provide nutritious meals for people in need.

For more information on Foodbank Queensland please visit www.foodbank.org.au/?state=qld

Our Hunger Fighter team at Foodbank Queensland are here to help you with anything you need. Please email us at fundraising@foodbankqld.org.au if you have any questions, ideas, or need any support to raise much needed funds.

REWARDS & INCENTIVES FOR HUNGER FIGHTERS!

1.Raise $300 and receive a Foodbank Queensland running singlet.






2. Raise $500 and receive a Hunger Fighter Cape & Mask.






3. Top Team. The team or individual who raises the most funds will be invited to tour our warehouse facilities and directly see the impact their donations make.






**Singlets, capes and masks are limited so only available whilst stocks last.